On October 24th 2022 UPF Austria organized a Webinar on
"South Asia and New Security Challenges"
Video report:
<![if !vml]>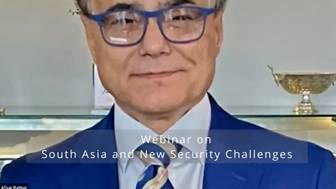 <![endif]>
South Asia and New Security Challenges.mp4
Introduction
The seven South Asian countries: Bangladesh, Bhutan, India, the Maldives, Nepal, Pakistan and Sri Lanka constitute one fifth of the world's population. The region faces substantial challenges in the areas of economic development, environmental protection, democratic governance, internal and inter-state conflicts, with the added dimension of nuclear capability and new security issues, such as international terrorism. The scale of the problems, the number of people affected, as well as the potential spill-over effect to the rest of the world makes it imperative both for the South Asian countries and the international community to address these issues. These interrelated and mutually reinforcing challenges must be dealt with in an integrated manner.
Moderator:
Afsar Rathor, President LIOS-SOIL Organization (LIOS), Austrian based environmental organization. Dr. Afsar Rathor joined the United Nations in 1989 and worked as a senior executive of the UN  responsible for implementing multimillions-dollar projects in Africa, Caribbean & South America and Eastern Europe as well as Europe. More than Twenty-seven years of visionary leadership experience and expertise with the UN in the fields of management, project management, poverty alleviation, environment and energy. With an internationally recognized successful track record of peacebuilding, conflict, reconciliation and disaster management in many wars-hit conflict areas in Middle East, Africa, South America and East Europe.
Speakers:
Ambassador (R) Asif Ali Khan Durrani, Senior Research Fellow in Islamabad Policy Research Institute. After completing higher education Amb Asif Durrani joined Foreign Service in 1986, Served at Headquarters as Section Officer, Director (UN) and Director Disarmament,  Director General United  Nations and Additional Secretary (FA) President's Secretariat, held various diplomatic assignments in Pakistan Missions in New Delhi, Tehran, New York, Kabul, and London. Ambassador of Pakistan to UAE and Permanent Representative at International Renewal Energy Agency (IRENA), Abu Dhabi; and Ambassador of Pakistan to Tehran & Permanent Representative of Pakistan to the Economic Cooperation Organization (ECO), Tehran. He retired in July 2018 and lectured in Columbia University, Hofstra College New York, IISS London, RUSI London, Chatham House London, National Defense College Kabul, National Defense University Tehran, National Defense University (NDU) Islamabad; National Management College (NMC) Lahore.  Appears on National and International electronic media as analyst on regional issues; regular contributor to newspapers. Currently he is serving as Senior Research Fellow in Islamabad Policy Research Institute (IPRI).
Peter Haider, President Universal Peace Federation Austrian Chapter. President of the Universal Peace Federation in Austria since 2005. He initiated already in 1984 the "Forum Religion und Weltgestaltung" as a platform for interreligious encounters in evening discussions and symposia in Vienna. Since 2009 he organized with UPF Austria several NGO conferences in the UN in Vienna commemorating the "World Interfaith Harmony Week" and among others also on the theme "Perspectives for Sustainable Peace in Europe: The UN Vision, the Role of Parliamentarians and Civil Society" with parliamentarians.
Ashoke Swain, Professor and Head of Department of Peace and Conflict Research Uppsala University Sweden
Dr. Ashok Swain is a Professor and Head of Department of Peace and Conflict Research. He is the UNESCO Chair on International Water Cooperation, and the Director of Research School of International Water Cooperation at Uppsala University. He is also the founding Editor-in-Chief of 'Environment and Security' journal, jointly published by Sage Publishing and Environmental Peacebuilding Association.
Alistair Edgar, Associate Professor and President of the Canadian Landmine Foundation. Dr. Alistair D. Edgar is Associate Professor of Political Science at Wilfred Laurier University, with cross-appointment to the Balsillie School of International Affairs. He is an editor of Global Governance: A Review of Multilateralism and International Organizations (Brill/Nijhoff) and series co-editor for the ACUNS Series on the United Nations (Edward Elgar Publishers). He served as Executive Director of the Academic Council on the United Nations System (ACUNS) in 2003-2008 and 2010-2018. Outside of his scholarly activities, he is President of the Canadian Landmine Foundation.
Organizer:
Yasir Khan, Research Associate, Austrian Institute for European Security Policy. Dr Yasir Khan has a PhD in Political Science from University of Vienna- Austria. He has served for the various international organizations such as the United Nations, Academic Council on the United Nations System, Sigmund Freud University Vienna. Currently, he is working as a Research Associate  with Austrian Institute for European Security Policy Vienna- Austria
<![if !vml]>

<![endif]>Organized in cooperation with Universal Peace Federation Austria