<![if !vml]>

<![endif]>
On Sunday May 14th 2017 the UN International Day of Families was celebrated at the Vienna HQ of the Unification movement by UPF, the Womens' Federation and the Family Federation. The topic given by the United Nations for this year was
"Families, education and well-being".
American Native Indian Elder Reuben Silverbird made the beginning with an Indian Blessing melody on the flute after expressing his special appreciation for all the mothers present as this day was also the Mother's Day. Elisabeth Cook read texts form the autobiography of Rev. Moon about the peace-building value of intercultural families. Then Mrs. Szlezak, who herself represents an intercultural family – she from Brazil and her husband from Austria, and has raised four boys in Austria, made a point that there are only good mothers and shared her thoughts about a mother's love.
The second speaker was Mag. Xiaoyan Wang, trained in Chinese medicine and a teacher of Chinese language. She spoke about the Chinese family system and its values, especially about the so called Chinese "Tiger mothers" who would do everything to make their children successful. The third speaker was Peter Haider who shared his experiences of a Blessed family in raising their children. He highlighted the human experiences of love as a child, as a brother or sister, as a partner in marriage and as a parent until finally we become grandparents. By experiencing these different kinds of loving relationships, we become the embodiment of the purpose of our creator.
Finally an "Ambassador of Peace" award was given to Dr. Nasir Khan, a professor in the field of education from Pakistan. The celebration was closed with a prayer of Blessing. The "Vienna Peace Choir" contributed with songs, creating a beautiful atmosphere. More than 200 persons participated, among them Ambassadors of Peace and leaders of NGOs. We could feel heaven's blessing on this day. Everybody was then invited to share lunch together.
<![if !vml]>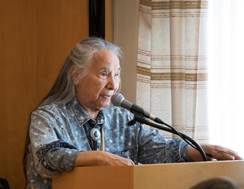 <![endif]> <![if !vml]>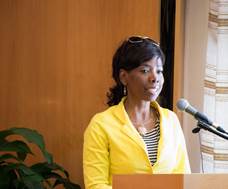 <![endif]> <![if !vml]>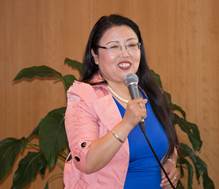 <![endif]> <![if !vml]>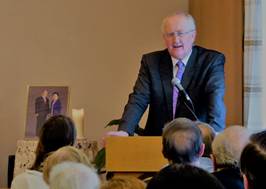 <![endif]>
 <![if !vml]>
<![endif]> <![if !vml]>
<![endif]> <![if !vml]>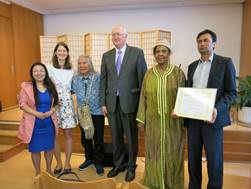 <![endif]> 
<![if !vml]>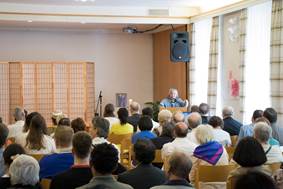 <![endif]> <![if !vml]>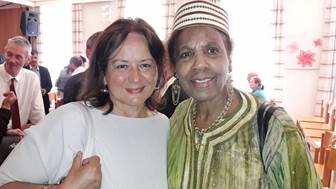 <![endif]>
<![if !vml]>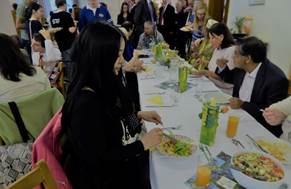 <![endif]> <![if !vml]>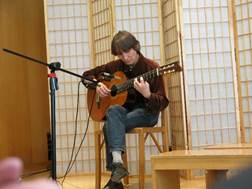 <![endif]>
The International Day of Families is observed on the 15th of May every year. This year's observance focuses on the role of families and family-oriented policies in promoting education and overall well-being of their members. In particular, the Day is to raise awareness of the role of families in promoting early childhood education and lifelong learning opportunities for children and youth.
The Day highlights the importance of all caregivers in families, be it parents, grandparents or siblings and the importance of parental education for the welfare of children. It focuses on good practices for work-family balance to assist parents in their educational and caregiving roles. Good practices from the private sector in support of working parents, as well as youth and older persons in the workplace are also highlighted.
The Day also aims to discuss the importance of 'knowledge and skills needed to promote sustainable development, including among others, through education for sustainable development and sustainable lifestyles, human rights, gender equality, promotion of a culture of peace and non-violence, global citizenship and appreciation of cultural diversity and of culture's contribution to sustainable development' (SDG4, target 4.7).
See also:
Spiritualität und Familie - Basis für eine nachhaltige Zukunft
"Families Matter for the Achievement of Development Goals"
The Role of the Family in Advancing Social Integration and Intergenerational Solidarity