<![if !vml]>
<![endif]>
"Ambassador for Peace Award" for UN Goodwill Ambassador Farhad Darya, the Elvis of Afgahanistan
Following an idea developed in cooperation with the Peace Museum Vienna, which he had visited earlier this day, the Permanent Mission of Afghanistan in Vienna, ACUNS Vienna Liaison Office, and UNODC organized a colloquium: "Afghanistan – a Country in Transformation: Promoting Peace and Development through Art" on 2 December 2014 in the Vienna International Center. There the Ambassador for Peace Award was granted by Universal Peace Federation Austria President, Peter Haider to the best known Afghan singer and UN Goodwill Ambassador Farhad Darya, who was the keynote speaker of the event.
Media reports: Peace activist Farhad Darya: The Elvis of Afghanistan   Afghan singer kicks off nationwide blood drive   Farhad Darya: "Gabalier vom Hindukusch"
| | | |
| --- | --- | --- |
| <![if !vml]><![endif]> | <![if !vml]><![endif]> | <![if !vml]><![endif]> |
| <![if !vml]><![endif]> | <![if !vml]><![endif]> | <![if !vml]><![endif]> |
| | | |
| --- | --- | --- |
| <![if !vml]><![endif]> | <![if !vml]><![endif]> | <![if !vml]><![endif]> |
| | | |
| --- | --- | --- |
| <![if !vml]><![endif]> | <![if !vml]><![endif]> | <![if !vml]><![endif]> |
The Best of the World Networks Fotos
Music to Fight Extremism in Afghanistan – By Dr. Ali Ahmad
Afghan singer Farhad Darya declared his first international campaign against extremism during his visit to Peace Museum Vienna (PMV) on 2 December 2014. Darya, one of the peace heroes of PMV, believes that extremism was the biggest enemy of humanity and that enemy was beyond any religion or politics. "Today I announce the international campaign against extremism which starts from PMV," Darya announced. For Darya, extremism today around the world represents some sort of lifestyle, not any particular ideology. Afghanistan is a country plagued by violence and extremism. The country has been witnessing several invasions and internal conflicts in its recent history. It has been home to diverse ideologies ranging from tribalism to strict Marxism, authoritarian regimes and now to a fragile democracy. Each of these regimes, however, tried to either censor or ban music in Afghanistan.
| | | |
| --- | --- | --- |
| <![if !vml]><![endif]> | <![if !vml]><![endif]> | <![if !vml]><![endif]> |
Darya said that dictatorship or reactionary regimes silenced music because those regimes were aware of the power of music to inspire people, whereas the Taliban (1996-­‐2001) had banned music because they considered it as un‐Islamic. Right after the U.S.-led coalition ousted Taliban from power in 2001, it was Darya's voice and music that broke the silence in Afghanistan. Darya thinks that music touches hearts and every small and big change starts from the heart.
Darya critiqued international media and said that media had only focused on portraying the negative side of Afghanistan while his country had a rich cultural aspect that they had missed completely, "Media has poisoned people about Afghanistan," he said. Every conflict has a cultural aspect, which gets neglected during the conflict. Darya suggests that music could be a cultural aspect that could heal people.
Darya believes that art promotes peace and it also creates hope and inspiration for a generation that has never seen peace in their lifetime. Though worried about increasing extremism, Darya remains optimistic and said "Now is the time to stop extremism with a smile and the time is today".
Farhad Darya is an Afghan singer, composer and peace activist. One of the most influential singer in the war-torn Afghanistan, he is also credited with popularizing a new wave of music in his native country and promoting peace and unity among his fellow Afghans through the power of his art. Darya was on his maiden Europe tour to perform a series of concerts for the Afghan diaspora. In Vienna, he was performing on 5th December at Austria Center. Peace Museum Vienna recognizes him as a 'Peace Hero' and has featured him on their "Windows for Peace" at Blutgasse, Vienna since June 2014.
<![if !vml]>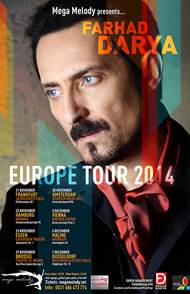 <![endif]>Singer, composer and world peace & human rights activist, Farhad Darya, has been the most influential musician on the Afghan music scene since the mid-80s, and certainly is a founder of a new wave of music in Afghanistan. He is known as the most prominent voice and a revolutionary creative force behind contemporary music in Afghanistan. He has been an extraordinary hit-maker since the late '80s. During the conflict years, Darya found his fame going beyond the boundaries of his country and gradually the world heard his music.
After the fall of the Taliban in Afghanistan, it was Darya's voice and music that broke the 'sound of silence' in the country – his music was broadcast by all radio and TV stations, it was his music which was used to announce the freedom of the country from oppressive rule.
Darya has been designated twice as UN Goodwill Ambassador for Afghanistan: to the UNDP (United Nations Development Program) and to the UNODC (United Nations Office for Drug and Crime).
During his historical journey of "Life is Beautiful", Farhad Darya performed for hundreds of thousands of his fans across the country, including in Helmand province, also known as the most turbulent area and the Taliban's stronghold in the country. He encouraged millions of people around the world with the words 'War & Violence are not the only alternative for Afghans!'.
As one of the best role-models to the present generation of Afghans, Darya has used his music and his personality to introduce Afghanistan to the world, not as a country of conflict and desperation, but a country of hope and inspiration. Recently he launched a national blood drive against extremism and donated blood to the Afghan troops.
UPF International is an NGO in Special Consultative Status with the ECOSOC of the United Nations
Seidengasse 28/4, 1070 Wien, Austria; ZVR: 182012940; www.weltfriede.at