INTERNATIONAL YOUTH ASSEMBLY – PEACE STARTS WITH ME
Saturday, April 28th 2018 - Wiener Stadthalle
<![if !vml]>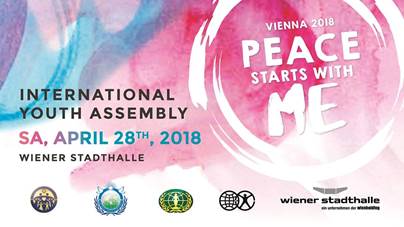 <![endif]>
In our current globalized world where we are confronted with daily tragedies it is easy to feel overwhelmed and disempowered.
The International Youth Assembly brings together young people from all over Europe and the Middle East
to share ideas and develop visions for a common future.
Through a celebration of arts and music we will highlight the diversity and creative power of our generation.
Together we want to create a culture of peace. After all, "Peace starts with me."

Program:
12:30 Doors open
13:30 Welcome and Program Opening
14:00 World Café Dialogue
16:00 Break & Refreshments
16:30 Arts & Music Festival
18:00 End of Event / Networking
16:30 Arts & Music Festival

18:00 End of Event / Networking16:30 Arts & Music Festival

18:00 End of Event / Networking

16:30 Arts & Music Festival

18:00 End of Event / Networking